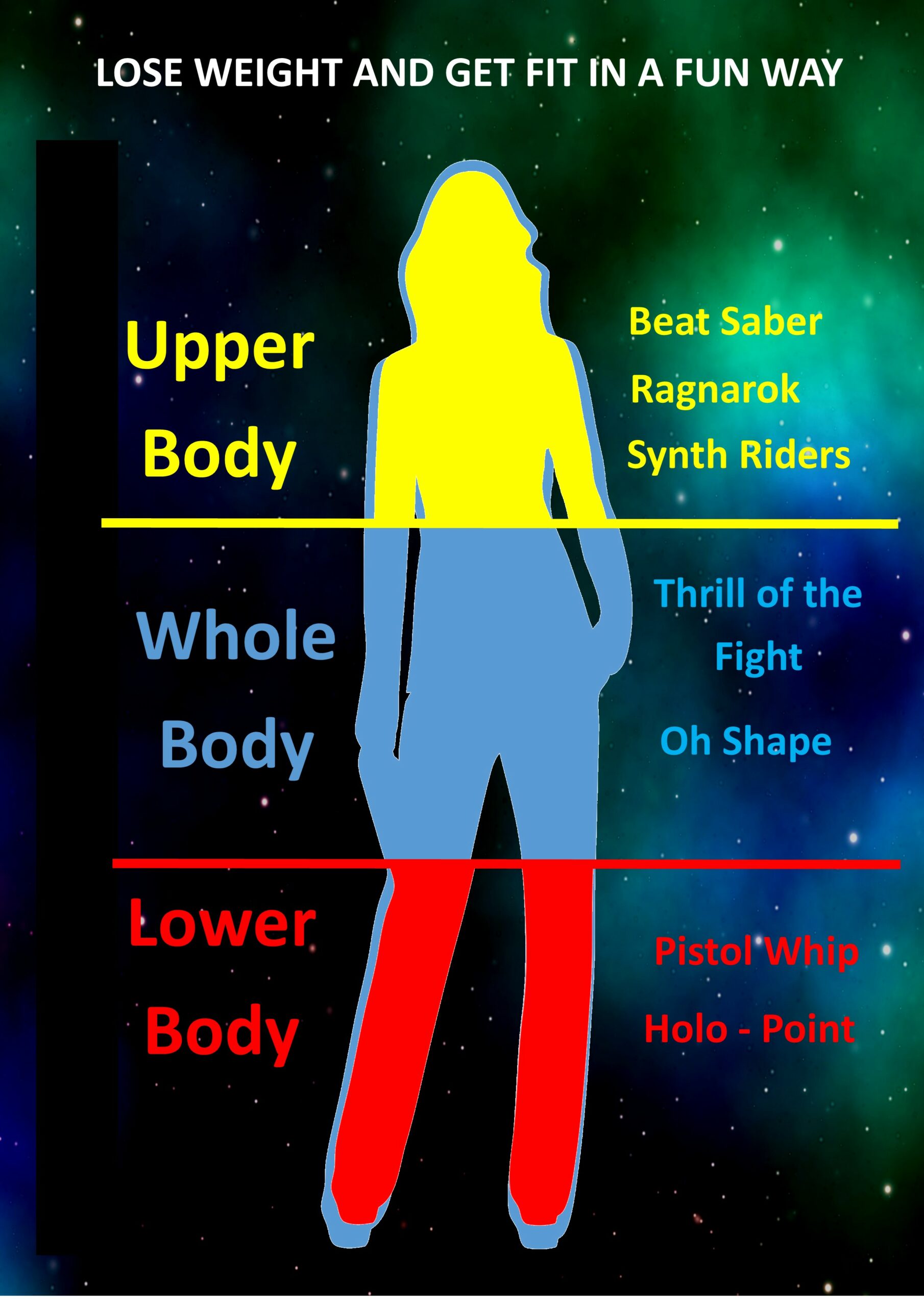 Does your Fitness regime start with Good Intentions, then quickly disappear.
Does the Gym fill you with Dread.

If so, Liverpool VRVE has the answer.
Lose weight and

get Fit the FUN way

, play VR Games that make you sweat, tone your muscles and get in shape whilst having Fun.  Try Activities like:
Box against an opponent in the Ring

Smash the Blocks in Beat Saber to the rhythm

Fire a Bow and Arrow at blocks that explode,  then avoid the pieces it shoots back  by squatting

Shoot enemies to a pulsating soundtrack using your whole body to avoid the bullets

Create shapes with your body and match them to the Wall coming towards you to a soundtrack of your choice.

Ride the rails with your hands and upper body and dance in a futuristic world in sync to the music

Beat the Drums to the rythymn of the music and lead your Viking Crew as they ride the waves of the ocean to be victorious in the race.
The Best 30 minute

FUN  workout

you can have.
Main Reasons why we don't keep up exercise regimes:
– Don't enjoy it,
too many people in the gym

, boredom,

tied to contracts

, don't know how to exercise,

too busy

, not enough time,

body conscious

.
CHANGE ALL THIS WITH VR FITNESS.
Play games that get you active, fit and healthy using all your muscles in a FUN way.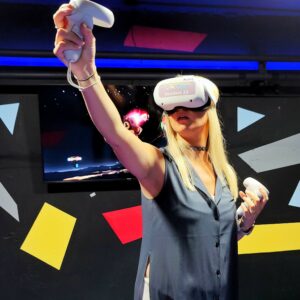 Liverpool VRVE will be open 3 days a week for VR Fitness Classes
– Monday, Wednesday and Friday 
5.20pm start and 6.20pm start
–

4

0 minutes

sessions, 
£6

 per session
FIRST SESSION FREE TO SEE WHAT VR FITNESS IS ALL ABOUT
Please use Whatsapp link to book yourself on a session.
Click this link to send us a Whatsapp
COME AND SEE FOR YOURSELF….
JUST CALL IN FOR A QUICK TOUR OF THE PLACE
Click Videos Below to see the Games that make you Sweat !!
Beat Saber
Using your UpperBody and arms slash the Blocks to the rythmn of  the music, whilst avoiding the walls that appear with your body. A fabulous way to move your  whole body as you dance your way to fitness.
Pistol Whip
Become John Wick,  move your whole body,  dodge bullets and baddies…. Return fire using your arms, shoulders and agility of your legs.
Holo-Point
Whole body movement using core muscles, shoot the blocks with arrows and dodge the incoming shapes. Each wave gets more and more difficult as your squat count builds and your heart rate starts to pump.
Thrill of the Fight
Jump into the ring and box with formidable opponents. A whole body workout for those who want to raise their pulse and increase stamina.
Synth Riders
Use your Arms,  Shoulders and whole body movements  to ride the rails and avoid the Wals to fast paced music tracks designed to get your heart pumping.
Ragnarok
Captain your own Viking Ship in a Race against the clock. Beat the drums in time to the music as you move faster and faster. A brilliant upperbody workout, testing your hand eye coordination to be victorious.
Oh Shape
The World moves past you to the various soundtracks.  Match the shapes in the Walls with your body as you dodge walls and punch diamonds with your hands. An all over Body workout to various soundtracks with differeing tempos.
Get Fit the FUN Way, play games for 30 minutes !!