NEW AT THE VRVE LIVERPOOL! 
PC Powered Virtual Reality Gaming & Experiences
Using dedicated Graphics Cards & CPU's inside stunning custom built Gaming PC's, we can now offer a fantastic new range of Virtual Reality Games only available through the Steam VR platform. 
Utilising our high speed Internet connection, we are able to wirelessly stream the PC VR games from our Gaming PC's to our Quest 2 Headsets. 
This means players can enjoy these high fidelity games unrestricted, no messy cables means you will get a fully immersive experience every time! 
All that sounds great of course, but what can you play?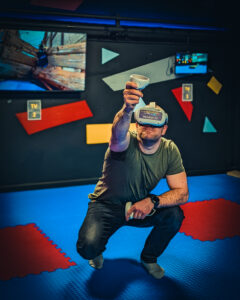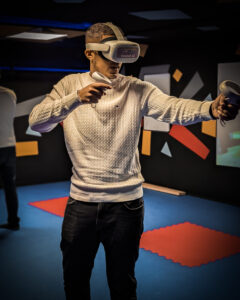 What VR Games Can I play?
Phasmophobia –
Phasmophobia is an online co-op, psychological horror game. You and your team of paranormal investigators will enter haunted locations filled with paranormal activity and try to gather as much evidence as you can. Use your ghost-hunting equipment to find and record evidence to sell on to a ghost removal team.
Half Life Alyx –
It's the story of an impossible fight against a vicious alien race known as the Combine, set between the events of Half-Life and Half-Life 2.
Bone Works/Labs –
In Boneworks, players take on the role of Arthur Ford, a rogue cybersecurity director who escapes into an unfinished simulated universe, battling through surreal architecture and mysterious scenes with a variety of experimental physics-based weaponry.
Blade and Sorcery –
Become a powerful warrior, ranger or sorcerer and devastate your enemies.
Batman –
Experience Gotham City through the eyes of the World's Greatest Detective in an all new Arkham mystery.
Trials of Tatooine –
Commence your Jedi training in this Star Wars virtual reality demo experience. Repair the Millennium Falcon, defend it from attack by Imperial Stormtroopers, and wield a LIGHTSABER.
Propagation –
Combining survival horror and static wave shooting, Propagation VR will get your adrenaline pumping as you try to survive a zombie apocalypse. Armed only with your guns and your fists, fight off terrifying zombies and other multi-species mutants.
The Lab –
Welcome to The Lab, a compilation of Valve's room-scale VR experiments set in a pocket universe within Aperture Science. Fix a robot, defend a castle, adopt a mechanical dog, and more.
Alien: Isolation –
Discover the true meaning of fear in Alien: Isolation, a survival horror set in an atmosphere of constant dread and mortal danger.
Outlast  –
Outlast 2 introduces you to Sullivan Knoth and his followers, who left our wicked world behind to give birth to Temple Gate, a town, deep in the wilderness and hidden from civilization. Knoth and his flock are preparing for the tribulations of the end of times and you're right in the thick of it.
Experiences
Kayak VR: Mirage –
a jaw-dropping and exhilarating journey through beautiful locations, made for Virtual Reality. Maneuver our fully physically accurate kayak around checkpoints and crown yourself the fastest, or take it easy and use the free roam mode and enjoy the scenery.
Google Earth –
Google Earth VR lets you explore the world from totally new perspectives in virtual reality. Stroll the streets of Tokyo, soar over the Grand Canyon, or walk around the Eiffel Tower.
The Blu –
Experience the wonder and majesty of the ocean through a series of habitats and come face to face with some of the most awe inspiring species on the planet.
Trials of Tatooine – 
Be transported to the desert world of Tatooine, repair the iconic Millennium Falcon, and defend the plucky droid hero R2-D2 from incoming Stormtroopers in this captivating experience set after the events of Return of the Jedi.